ほら吹き Blowing a Shell or Tell a Lie
ほら吹き

Blowing a Shell or Tell a Lie



The word:

Closer look at the kanji:

B = Beginner | I = Intermediate
| A = Advanced

ほら吹き
hora fuki
Blowing a shell (as musical instrument) -or- Tell a lie / exaggerate

ほら hora Shell ; Trumpet Shell
吹き fuki to blow


吹き飛ばす fuki tobasu – to blow off, (literally and metaphorically), brush away [A]
吹き替え fuki kae – dubbing (movies) [I]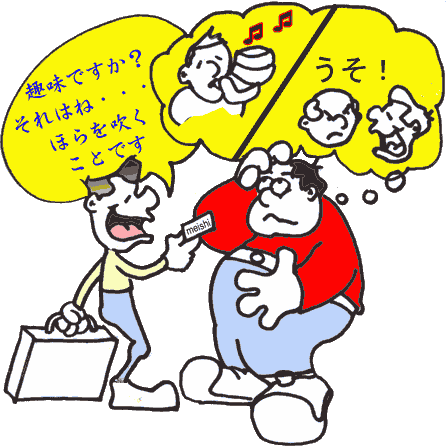 Wilber's mind was bubbling with the beginnings of a mighty fine misunderstanding.
---
SUGGESTED USAGE:
趣味ですか?それはね、ほらを吹くことです。
shumi desu ka? sore wa ne, hora o fuku koto desu.
My hobby? Well, that's ???
ABOUT SUGGESTED USAGE:
趣味 shumi – hobby A common question at introductions


ですか desu ka – (question marker)
それはね sore wa ne – That is… You will often hear *introductions* such as this to what the speaker is saying. You can imagine this gives the listener a dramatic pause before being belted with something profound

ほらを吹く hora o fuku – blowing a shell -or- lying through his teeth HORA O FUKU basically means the same as HORA FUKI. We changed it to the basic verb form in order to use KOTO (see below)

こと koto – thing You could say [hora fuki desu.], Adding the koto may give it umph, but really there is no difference. To make this form, use the simple form of the verb (FUKU) plus koto

---
Is this site helping your Japanese? Do you have a spare $1 to help Clay pay the bills?
---
DarwinGenome Guides – helpful academic writing tips for students
Expert assistance with languages homework help for every student at ezassignmenthelp
123Writings.com writes admission essays since 2013
Facebook your comment here! 😀