天敵 Natural Enemy

The word:

Closer look at the kanji:

B = Beginner | I = Intermediate
| A = Advanced

天敵
ten teki

natural enemy

天 ten heaven, nature

敵 teki enemy, opponent

天の川 ama no gawa – the Milky Way [note the pronunciation is ama] [I]


天下一 ten ka ichi – best thing on earth [I]
天国 ten goku – heaven [B]
強敵 kyou teki – strong enemy [I]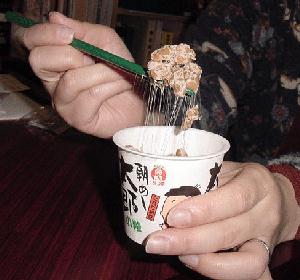 DISCLAIMER: What you are about to see may not present a fair coverage of the whole story. The present writer admits to have never actually tasted, but only to have smelled it and observed it from a distance.
---
SUGGESTED USAGE:
プーさんは忍術の訓練のあとで、ハチたちの強敵になった。
pu-san wa ninjutsu no kunren no atode, hachi tachi no kyou teki ni natta.
Pooh, after his ninja training became a formidable enemy of Beekind.
ABOUT SUGGESTED USAGE:

ネズミ nezumi – mouse, mice (mouses) 🙂

の no – 's; possessive marker mouse's natural enemy…


猫 neko – cat, cats, catkind


私 watashi – I 私の watashi no – my

納豆 nattou – natto or the-more-delicious-sounding-name: fermented soybeans

Is this site helping your Japanese? Do you have a spare $1 to help Clay pay the bills?
---
DarwinGenome Guides – helpful academic writing tips for students
Expert assistance with languages homework help for every student at ezassignmenthelp
123Writings.com writes admission essays since 2013
Leave your comment below!