土下座 Prostrating Oneself
土下座
kneeling down to the ground, prostrating oneself



The word:

Closer look at the kanji:

B = Beginner | I = Intermediate
| A = Advanced

土下座
do ge za

kneeling down to the ground, prostrating oneself

土 do earth, ground

下 ge down, below, under

粘土 nen do – clay (a dirty word) [I]


お土産 omiyage – a souvenir, a present [B]
靴下 kutsu shita – socks (shoe + under) [B]
下 shita – below, under [B]
王座 ou za – throne [I]
正座 sei za – sitting correctly Japanese style [sit upright with legs under] [I]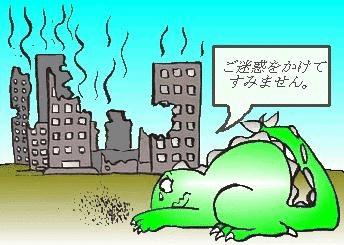 Godzillas humble act resulted in the lizards return to respectable society.
---
SUGGESTED USAGE:
ゴジラは心から反省したので、東京都民に土下座した。
gojira wa kokoro kara hansei shita node, toukyou tomin ni dogeza shita.
Godzilla, having had heartfelt introspections, humbly knelt before the citizens of Tokyo.
ABOUT SUGGESTED USAGE:
ゴジラ gojira – Godzilla The Japanese gojira comes from gorira (gorilla) and kujira (whale)

心から kokoro kara – from the heart

反省 han sei – reflect on, think over

した shita – past of suru
ので node – because (of what was said before node)

東京 tou kyou – Tokyo Most English speakers pronounce this in 3 syllables, but it really is only 2 TOU KYOU

都民 to min – citizens of Tokyo
に ni – particle showing who Godzilla is dogezaing to

---
Is this site helping your Japanese? Do you have a spare $1 to help Clay pay the bills?
---
DarwinGenome Guides – helpful academic writing tips for students
Expert assistance with languages homework help for every student at ezassignmenthelp
123Writings.com writes admission essays since 2013
Leave your comment below!