Japanese Culture Section

無敵の鉄人ボブは夏の小雨で錆びた。
muteki no tetsujin bobu wa, natsu no kosame de sabita.
Bob, the invincible Iron Man rusted in a light summer sprinkle.
Click for Video and Audio


The word:

Closer look at the kanji:

B = Beginner | I = Intermediate
| A = Advanced

鉄人
tetsu jin
Strong (Iron) Man

鉄 tetsu iron
人 jin man, person


地下鉄 chi ka tetsu – subway (not the restaurant!) [B]
鉄道 tetsu dou – rail road (iron road) [I]
大人 otona – adult [B]
火星人 ka sei jin – Martian [I]
外国人 gai koku jin – foreigner [B]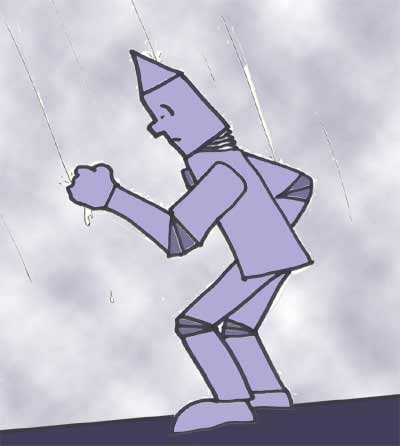 …And just out of warranty!
---
SUGGESTED USAGE:
無敵の鉄人ボブは夏の小雨で錆びた。
muteki no tetsujin bobu wa, natsu no kosame de sabita.
Bob, the invincible Iron Man rusted in a light summer sprinkle.
ABOUT SUGGESTED USAGE:
無敵 mu teki – invincible, unrivaled (no enemies strong enough to challenge)


ボブ bobu – Bob (a tough sounding name like the Fonz)
夏 natsu – summer

の no – shows possession It was a light sprinkle OF the summer

小雨 ko same – light rain Another and perhaps an easier way would be to say, 'karui ame' (light rain)

で de – in He rusted because of being IN the rain

錆びた sabita – rusted from sabiru

Is this site helping your Japanese? Do you have a spare $1 to help Clay pay the bills?
---
DarwinGenome Guides – helpful academic writing tips for students
Expert assistance with languages homework help for every student at ezassignmenthelp
123Writings.com writes admission essays since 2013
Facebook your comment here! 😀