致命的 Fatal

The word:

Closer look at the kanji:

B = Beginner | I = Intermediate
| A = Advanced

致命的
chi mei teki

Fatal

致 chi to do, bring about

命 mei life

的 teki suffix for forming adjectives from nouns


一致 icchi – agreement [A]


命 inochi – life [B]
命令 mei rei – command [B]
一時的 ichi ji teki – momentary, fleeting [A]
具体的 gu tai teki – concretely (not abstract) [I]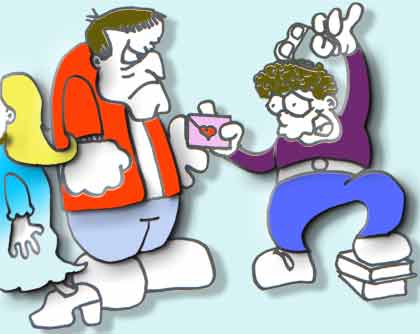 Bernard never knew what hit him.
---
SUGGESTED USAGE:
シンディーへの印象をよくするためにバーナードはめがねをはずしたので、致命的な誤りをおかしました。
shindi- e no inshou o yoku suru tame ni ba-na-do wa megane o hazushita node, chimeiteki na ayamari o okashimashita.
Removing his glasses to impress Cindy, Bernard made a fatal mistake.
ABOUT SUGGESTED USAGE:
シンディー shindi – Cindy Since there is no native sound in Japanese for DY you make a small ィ after the デ to get the sound.


へ e – to
印象をよくするために inshou o yoku suru tame ni – in order to impress… INSHOU means impress; TAME NI means in order to

バーナード ba-na-do – Our hero, Bernard

めがね megane – (eye) glasses
はずした hazushita – remove, take off from HAZUSU

ので node – therefore

誤り ayamari – mistake (In this case a big mistake)
おかしました okashimashita – to commit (a crime…)

---
Is this site helping your Japanese? Do you have a spare $1 to help Clay pay the bills?
---
DarwinGenome Guides – helpful academic writing tips for students
Expert assistance with languages homework help for every student at ezassignmenthelp
123Writings.com writes admission essays since 2013
Leave your comment below!