Newest Japanese Lessons and Articles: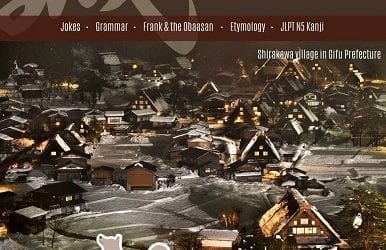 Issue #11 January 2019 DOWNLOAD the eBOOK: Please note: We are providing the sound files from this issue openly, but to follow along and have full access to grammatical notes and the running gloss, please either purchase this issue at:  TheJapanShop.com or, better...
read more
Exclusive Deal For You The Complete Japanese Reader Collection. This bundle set includes ALL NINE Volumes of the Japanese Reader Collection in digital format (this bundle would cost $44.90 elsewhere). Download instantly and begin improving your Japanese reading skills (PDFs, ePub, MOBI), listening abilities (MP3s), and vocabulary. ONLY $16 - One Time Payment. An amazing value! Click the image below to learn more.