Japanese Post Office
All about the Japanese Post Office–Ok, not really 'All'
ABOUT THE POST OFFICE:
There are branch Post Offices everywhere; Most neighborhoods have one. In addition to the offices, there are also many postal boxes which are red and have a postal mark on them.
In addition to mail, most post offices can do banking services also. A lot of people have bank accounts in the post office because the hours are better and I have heard sometimes the rates are better!
Most post offices are open from 9 am – 5 pm (banks close at 3!) although the bigger post offices are open late at night.
Home mail boxes are only for delivery. You must go to a postal box or a post office to mail something.
The busiest day for the Post Office is New Year's Day. Everyone in Japan sends out dozens (sometimes hundreds) of new year greeting cards called 年賀状 nengajou during the final weeks of the year. The Post Office quickly organizes the mess and early on New Year's Day the postal workers go out delivering these cards. It really is remarkable.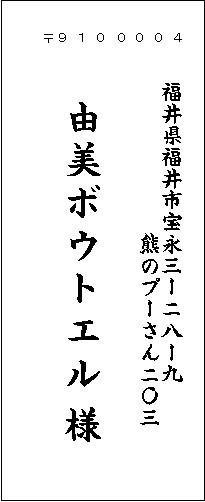 PRICES:
Sending a letter in Japan is 80 yen & 110 yen to the West
Postcards are 50 yen in Japan & 70 yen to Overseas
Heavier than usual letters of course add additional charges
Usually someone has a calculator there to show you the cost
ADDRESSING A LETTER:
The letter to the right is addressed to Yumi, but don't try to write her. The address is made up (considering we live in "kuma no pu-san (Winnie the Pooh)" apartment and all…).
At the top there is a funny shaped thing-a-majig called a Postal Mark which is followed by 3 numbers and 4 numbers. In the example they are grouped together, but in most cases it would look like this 910-0004 .
Next to the right we have the prefecture (Fukui-ken) and the city (Fukui-shi) <see picture to left>
After that comes the district name (Houei) and the numbers.
The numbers are written in kanji but they could just as well have been written in romaji numbers (3-28-9)
On the next line comes the apartment name. My made up apartment name is none other than kuma no pu-san (Winnie the Pooh) #303
In the middle and in the biggest font goes the person's name. (Yumi Boutwell)
After the name, there is usually a sama which is like the "Mr." or "Mrs." showing respect
Usually your address is on the back in smaller letters, but following a similar pattern.