Volume 8: Two by Two, Here We Go!
Volume 8: Counting two by two–with an Octopus!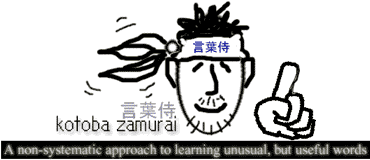 Kotoba zamurai articles are written to be a non-systematic approach to learning unusual, but useful words. While these not-so-serious articles are written with the upper-beginner to intermediate in mind, even beginners should be able to get something out of them. If not, I may have wasted 15 minutes of your life… I will leave it up to you to take the chance.
---
Volume 8: "Counting by Twos" or "Two by Two, Quoth the Octopus"
Last time, we looked at big numbers. This time we will look at small numbers becoming big numbers.
In a perfect world, everything would be counted with even numbers. Everyone would have two eyes, four mouths, and eight hundred and eighty-eight pieces of chocolate to fit in the four mouths.
Here is a helpful diddy for counting those chocolates by twos:
ni (2), shi (4), ro (6) no ha (8) no to (10)
Or if you want to be cute, let's ask the help of a purple octopus: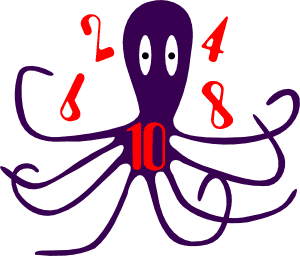 Here we have an octopus (tako) making sounds (chuu chuu)
「ちゅうちゅうたこかいな」
chuu chuu tako kai na
You may think this means something like, "(Chuuchuu) Are you an octopus?"
But the かいな apparently is 腕 (arm–normally "ude" but "kaina" is another reading). So we hear the sound of the octopus and talk about the octopus and his arms in order to count to ten–all quite natural and logical.
"huh?" you say?
Two (2) chuu's and eight (8) legs make ten (10)!
For more on this in Japanese, check this website out (scroll to bottom)