[et_pb_section bb_built="1″ _builder_version="3.0.98″ background_size="initial" background_repeat="repeat-y" custom_margin="0px||30px|" custom_padding="0px||0px|" inner_shadow="on"][et_pb_row _builder_version="3.0.98″ make_fullwidth="on" make_equal="on"][et_pb_column type="4_4″][et_pb_code admin_label="Breadcrumbs" _builder_version="3.0.97″][wpseo_breadcrumb][/et_pb_code][/et_pb_column][/et_pb_row][et_pb_row make_fullwidth="on" custom_padding="0px||0px|" custom_margin="0px||0px|" make_equal="on" background_color_2="#fbfaf6″ _builder_version="3.0.98″][et_pb_column type="1_4″][et_pb_text admin_label="Fun Menu Left" _builder_version="3.1.1″ disabled="off" disabled_on="on|on|" saved_tabs="all" global_module="31686″]
太鼓腹 Taiko Belly
太鼓腹
Taiko (Japanese drums) Belly




The word

:




Closer look at the kanji:


B = Beginner | I = Intermediate
| A = Advanced

太鼓腹


tai ko bara
Taiko (Japanese drums) Belly

太 tai big, thick, become fat
鼓 ko courage, drums, beat
腹 hara belly, stomach


太い

futoi – fat, thick [B]


太鼓

tai ko – Taiko Japanese drums [B]


太陽

tai you – sun [B]


空腹

kuu fuku – hunger [A]


腹が立つ

hara ga tatsu – angry [lit. stomach stands up] [I]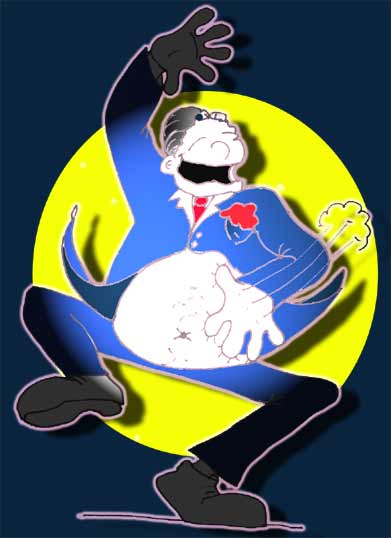 Many years of careful practice…
---
SUGGESTED USAGE:
ボブさんの太鼓腹での演奏はあまりにもすごいので、ウィーンでソロデビューしました。

bobu san no taikobara de no ensou wa amari ni mo sugoi node, wi-n de soro debyu- shimashita.
Bob's performance on his taiko belly was so extraordinary, he made his debut as a soloist in Vienna.
ABOUT SUGGESTED USAGE:
趣味 shumi – hobby A common question at introductions

ボブさん bobu san – (Mr.) Bob When a [Mr.] or [Mrs.] can be omitted in English, it probably cannot be omitted in Japanese. SAN can be used for both male and female.

の no – possessive

で – at, on, in, by The best way to get a feel for these particles is to read examples where they are used and notice how they are used.

演奏 en sou – performance

あまりにも amari ni mo – was so… that…

すごい sugoi – great! cool!

ので node – because, therefore Notice the order: the first part gives reason for what comes after NODE

ウィーン wi-n – Vienna Where else would Bob show off his extraordinary talent?

ソロ soro – solo

デビュー debyu- – debut

しました shimashita – past tense

---
[/et_pb_text][et_pb_text admin_label="Fun Menu Mobile" _builder_version="3.1.1″ disabled="off" disabled_on="off|off|on" saved_tabs="all" global_module="31687″] [/et_pb_text][et_pb_text admin_label="Enjoy & Happy Sharing!" _builder_version="3.1.1″ text_font="Montserrat|700|||||||" text_font_size="23px" text_text_color="#096096″ saved_tabs="all" global_module="30020″]

Sharing is Caring…

[/et_pb_text][et_pb_sidebar admin_label="Social Share" _builder_version="3.1.1″ area="et_pb_widget_area_9″ show_border="off" header_font="||on||||||" saved_tabs="all" global_module="31688″ /][et_pb_comments _builder_version="3.1.1″ show_count="off" saved_tabs="all" global_module="31689″ /][/et_pb_column][et_pb_column type="1_4″][et_pb_sidebar area="sidebar-1″ show_border="off" _builder_version="3.1.1″ border_radii="on|0px|0px|0px|0px" header_font="|700|||||||" header_text_color="#ffffff" background_layout="dark" body_text_color="#2ea3f2″ header_text_align="center" background_color="#fbfaf6″ saved_tabs="all" global_module="29980″ /][/et_pb_column][/et_pb_row][/et_pb_section]

[/et_pb_text][/et_pb_column][et_pb_column type="1_2″][et_pb_text admin_label="Edit Content Here" _builder_version="3.1.1″ parallax="on" module_alignment="left" custom_padding="30px|20px|15px|20px"]