[et_pb_section bb_built="1″ background_color="#ffcc99″ inner_shadow="on" _builder_version="3.0.75″ background_image="https://www.thejapanesepage.com/wp-content/uploads/2017/08/bg-lessons.jpg" background_size="initial" background_repeat="repeat-y" custom_margin="0px||0px|" custom_padding="0px||0px|"][et_pb_row custom_padding="0px||0px|" custom_margin="0px||0px|" _builder_version="3.0.75″ make_equal="on" module_alignment="center" background_color_1="#ebe0ce" background_color_2="#fbfaf6″ background_color_3="#ebe0ce"][et_pb_column type="1_4″][et_pb_text admin_label="Left Menus" disabled_on="on|on|" _builder_version="3.0.84″ module_alignment="left" custom_padding="30px|10px|15px|10px" background_layout="light" disabled="off"]

Fun
寒中水泳 Swimming in the Middle of Winter
寒中水泳
swimming in the middle of winter; a midwinter swim



The word:

Closer look at the kanji:

B = Beginner | I = Intermediate
| A = Advanced

寒中水泳
kan chuu sui ei

swimming in the middle of winter; a midwinter swim

寒 kan cold

中 chuu middle, in the midst of

寒い samui – cold (weather) [B]


勉強中 benkyou chuu – while studying, in the midst of studying [I]
水中 sui chuu – underwater [I]
水曜日 sui you bi – Wednesday [B]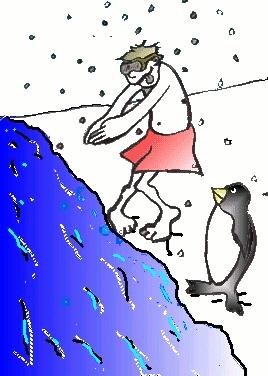 At last! Harolds induction to the Polar Bear Club will be complete…
---
SUGGESTED USAGE:
趣味ですか?読書と切手収集と寒中水泳です。
shumi desu ka? dokusho to kitte shuushuu to kanchuusuiei desu.
My hobbies? They are reading books, collecting stamps and swimming in the dead of winter.
ABOUT SUGGESTED USAGE:
趣味 shumi – hobby


趣味ですか? shumi desu ka? – The person is repeating a question asked to himself.
読書 doku sho – reading books

切手 kitte – postal stamp

切手収集 kitte shuu shuu – collecting stamps
---
[/et_pb_text][et_pb_text admin_label="Mobile Display Only" disabled_on="off|off|on" _builder_version="3.0.84″ module_alignment="left" custom_padding="30px|10px|15px|10px" background_layout="light" disabled="off"]

Fun
Is this site helping your Japanese? Do you have a spare $1 to help Clay pay the bills?
---
DarwinGenome Guides – helpful academic writing tips for students
Expert assistance with languages homework help for every student at ezassignmenthelp
123Writings.com writes admission essays since 2013

[/et_pb_text][/et_pb_column][/et_pb_row][/et_pb_section][et_pb_section bb_built="1″ inner_shadow="on" _builder_version="3.0.73″ custom_padding="10px||10px|"][et_pb_row custom_padding="||10px|" padding_bottom_1="10px" padding_bottom_2="10px" _builder_version="3.0.73″ background_size="initial" background_position="top_left" background_repeat="repeat"][et_pb_column type="1_2″][et_pb_text admin_label="Kanji 100 eBook For FREE" _builder_version="3.0.75″ background_layout="light" text_orientation="center" border_style="solid" module_alignment="center" background_position="top_left" background_repeat="repeat" background_size="initial"]

Get Clay's Kanji 100 eBook For FREE

[/et_pb_text][et_pb_image src="https://www.thejapanesepage.com/wp-content/uploads/2017/09/TJS-Newsletter-FB-ad.jpg" url="http://www.japanesereaders.com/getmykanji/" align="center" module_class="rr-module-hover et_animated et_animated et_animated" _builder_version="3.0.73″ animation_style="bounce" /][/et_pb_column][et_pb_column type="1_2″][et_pb_text admin_label="Two Tocks for FREE" _builder_version="3.0.75″ background_layout="light" text_orientation="center" border_style="solid" module_alignment="center"]

Claim Your Two Tocks Before Midnight eBook for FREE

[/et_pb_text][et_pb_image src="https://www.thejapanesepage.com/wp-content/uploads/2017/09/fb-ad-clay-landing-page-6.jpg" url="http://clayboutwell.com/cb-signup" align="center" module_class="rr-module-hover et_animated et_animated et_animated" _builder_version="3.0.73″ animation_style="bounce" /][/et_pb_column][/et_pb_row][/et_pb_section][et_pb_section bb_built="1″ background_color="#f2dab7″ inner_shadow="on" _builder_version="3.0.73″ custom_padding="10px||10px|"][et_pb_row _builder_version="3.0.73″ background_size="initial" background_position="top_left" background_repeat="repeat"][et_pb_column type="4_4″][et_pb_image admin_label="JapanesePod101 Ads" src="https://www.thejapanesepage.com/wp-content/uploads/2017/09/japanese_desktop_728x90.png" url="http://www.japanesepod101.com/member/go.php?r=157404&i=b31″ align="center" _builder_version="3.0.75″ show_in_lightbox="off" url_new_window="off" use_overlay="off" always_center_on_mobile="on" border_style="solid" force_fullwidth="off" show_bottom_space="on" /][/et_pb_column][/et_pb_row][/et_pb_section]