雪だるま Snowman

The word:

Closer look at the kanji:

B = Beginner | I = Intermediate
| A = Advanced

雪だるま
yuki daruma

snowman

雪 yuki snow

雪合戦 yuki gassen – snow fight [B]


雪かき yuki kaki – shovel snow [I]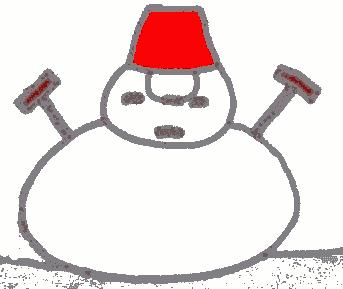 The biggest difference in Western and Japanese snowmen is Japanese yuki daruma have only 2 parts – head and waist. They have no legs! The hat in the picture is a bucket.
---
SUGGESTED USAGE:
雪だるまのフロースティは、夢だったフロリダ旅行に行きましたが、それは悪夢に終わった。
yukidaruma no furo-suti wa, yume datta furorida ryokou ni ikimashita ga, sore wa akumu ni owatta.
Frosty the snowman's Florida dream vacation ended in a nightmare.
ABOUT SUGGESTED USAGE:
夢 yume – dream just like the English, it can also mean what you dream about for the future


フロリダ旅行 furorida ryokou – Florida trip
行きました ikimashita – went past tense and -masu form of 行く iku

が ga – but..

それは sore wa – as for all that…
悪夢 aku mu – night mare lit. bad dream

に終わった ni owatta – ended in

---
Is this site helping your Japanese? Do you have a spare $1 to help Clay pay the bills?
---
DarwinGenome Guides – helpful academic writing tips for students
Expert assistance with languages homework help for every student at ezassignmenthelp
123Writings.com writes admission essays since 2013