[et_pb_section bb_built="1″ _builder_version="3.0.98″ background_size="initial" background_repeat="repeat-y" custom_margin="0px||30px|" custom_padding="0px||0px|" inner_shadow="on"][et_pb_row _builder_version="3.0.98″ make_fullwidth="on" make_equal="on"][et_pb_column type="4_4″][et_pb_code admin_label="Breadcrumbs" _builder_version="3.0.97″][wpseo_breadcrumb][/et_pb_code][/et_pb_column][/et_pb_row][et_pb_row make_fullwidth="on" custom_padding="0px||0px|" custom_margin="0px||0px|" make_equal="on" background_color_2="#fbfaf6″ _builder_version="3.0.98″][et_pb_column type="1_4″][et_pb_text admin_label="Fun 2″ _builder_version="3.1.1″ disabled="off" disabled_on="on|on|" saved_tabs="all" global_module="31770″]
島流し Banishment
島流し
Banishment / exile to a desert island



The word:

Closer look at the kanji:

B = Beginner | I = Intermediate
| A = Advanced

島流し
shima nagashi

Banishment / exile to a desert island

島 shima island

流し nagashi flow (of water), sink, current

島 shima – island [B]


半島 han tou – peninsula [I]
無人島 mu jin tou – unpopulated island [A]
国際交流 koku sai kou ryuu – international exchange [I]
流れ星 nagare boshi – falling star, shooting star [A]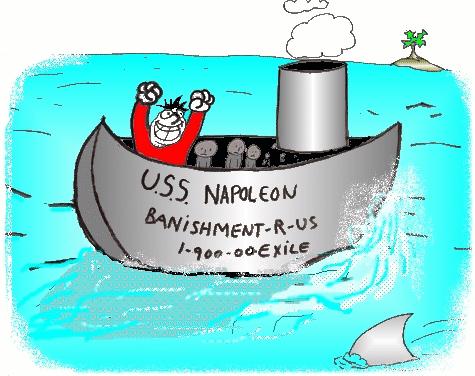 Henry's ecstatic joy soon turned to sorrow when he learned there was no Pokey or Cal-Pis.
---
SUGGESTED USAGE:
宝くじがあたったヘンリーの賞品は、ラッキーなことに島流しだった。
takura kuji ga atatta henri- no shouhin wa, rakki na koto ni shimanagashi datta.
Lottery winning Henry won the lucky banishment to a desert island prize.
ABOUT SUGGESTED USAGE:
宝くじ takara kuji – lottery


あたった atatta – won, hit simple past of 当たる ataru
ヘンリ henri – Henry foreign names are always written in katakana

賞品 shou hin – prize prize money is 賞金 shou kin

ラッキな rakki na – lucky most foreign words that act as adjectives are na adjectives.
こと koto – thing, matter lucky thing


[/et_pb_text][et_pb_text admin_label="Fun Menu Mobile" _builder_version="3.1.1″ disabled="off" disabled_on="off|off|on" saved_tabs="all" global_module="31687″] [/et_pb_text][et_pb_text admin_label="Enjoy & Happy Sharing!" _builder_version="3.1.1″ text_font="Montserrat|700|||||||" text_font_size="23px" text_text_color="#096096″ saved_tabs="all" global_module="30020″]

Sharing is Caring…

[/et_pb_text][et_pb_sidebar admin_label="Social Share" _builder_version="3.1.1″ area="et_pb_widget_area_9″ show_border="off" header_font="||on||||||" saved_tabs="all" global_module="31688″ /][et_pb_comments _builder_version="3.1.1″ show_count="off" saved_tabs="all" global_module="31689″ /][/et_pb_column][et_pb_column type="1_4″][et_pb_sidebar area="sidebar-1″ show_border="off" _builder_version="3.1.1″ border_radii="on|0px|0px|0px|0px" header_font="|700|||||||" header_text_color="#ffffff" background_layout="dark" body_text_color="#2ea3f2″ header_text_align="center" background_color="#fbfaf6″ saved_tabs="all" global_module="29980″ /][/et_pb_column][/et_pb_row][/et_pb_section]

[/et_pb_text][/et_pb_column][et_pb_column type="1_2″][et_pb_text admin_label="Edit Content Here" _builder_version="3.1.1″ parallax="on" module_alignment="left" custom_padding="30px|20px|15px|20px"]