iPhone & iPod Touch Applications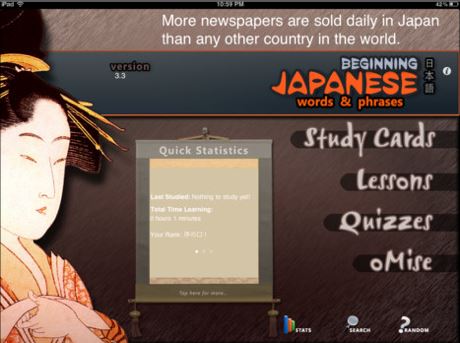 Our first iPhone application: a Beginning Japanese Talking Word & Phrase app
Download the free version and let us know what you think!

LEARN JAPANESE PHRASES iPhone/iPad App
With nearly 3,000 sound files, our flagship app is the largest Japanese phrase app in the iPhone/iPad app store. For beginners and those needing a brush up!
This universal app works on the iPhone, iPod Touch, and iPad. Buy it once and use it on any of these devices at no additional cost. Or try it out for FREE with our free version (still nearly 500 words and phrases and a hundred lessons).
"Much more than a simple phrasebook!" – AppAdvice.com
Learn Japanese Phrases, Grammar, Hiragana, Katakana, and Kanji
For Beginners and Upper Beginners on your iPhone, iPod Touch, and iPad
"Before I'd used the J Phrases app I wasn't too serious in learning Japanese. But the app and TheJapanShop.com in general has made it seem a lot easier and more fun than I thought it would be!"
–User Comment

2,700+ Japanese Phrases all with sound; hundreds of lessons; constant updates
"Regularly updated, large variety of ways to learn. Has to be one of the best Japanese apps out there" – user review
"This is a great way to learn conversational Japanese. Good for beginners and intermediates, kana and romaji, quizzes and flashcards. Perfect."
–DJ Izco
"I have tried most Japanese apps on the app store, and this is one of only two that I keep. This one offers vocab and lessons, the other I keep is a dictionary. Extremely useful with frequent updates. Highly recommended."
–a user in the U.K.
"Fantastic depth, so much to learn. Far better than those over priced apps that teach just one aspect. This is a really good and surprisingly comprehensive beginners course."
–a user review
"Just started learning Japanese. It's a real help. Sensei approves as well."
–a user review
Perfect for those just starting out with Japanese. Designed for those with little or no Japanese knowledge, this iPhone app has over 2,700 audio files of Japanese phrases recorded by a professional native voice actress. Many phrases have cultural notes to make this audio phrase ebook all the more useful.
The lesson section has HUNDREDS of pages on hiragana, katakana, grammar, and more. PLUS nearly every Japanese word found on the pages has a sound file that plays when tapped.
Although this will be helpful for those traveling in Japan, it isn't designed to be a travel phrasebook, but a conversation phrasebook. It is best for those who want to quickly learn conversational Japanese with correct pronunciation. The words and phrases encountered here are among the most used in everyday conversational Japanese.
Nothing can take the place of a good textbook and this is certainly not an attempt to do so. We highly recommend getting a textbook to keep your learning structured and regular.
A great way to learn vocabulary and grammar is to memorize phrases and to know when to use them. Listening and repeating the words and phrases will also help improve pronunciation and listening comprehension.
This Application includes:
2,700+ crystal clear audio recordings
Voice recordings by native speakers
Hundreds of lesson articles all with sound for the Japanese
Organized into logical and useful categories
Interactive multiple choice quizzes for every category
Flashcard function for all words and phrases
Spaced Repetition – view words you don't know more often
Random — randomly display one of the 2,700 phrases or words
Study Bank — favorite any phrase to study or email to you later
Settings: Turn on or off ROMAJI!
Settings: Turn on or off Auto Play
SEARCH — now you can quickly find any word or phrase in the app
Works even without a network connection (except for a few videos in the lessons)
Is this site helping your Japanese? Do you have a spare $1 to help Clay pay the bills?
---
DarwinGenome Guides – helpful academic writing tips for students
Expert assistance with languages homework help for every student at ezassignmenthelp
123Writings.com writes admission essays since 2013