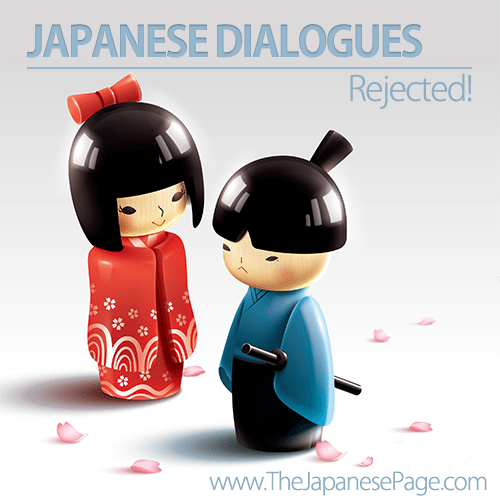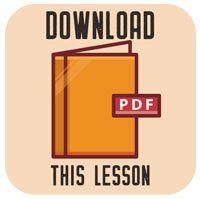 こんにちは。僕はフランクです。
konnichi wa. boku wa furanku desu.
Hello, my name is Frank.

ゆきです。
yuki desu.
I'm Yuki.

ゆきさん、よろしく。
yuki san, yoroshiku.
Nice to meet you, Yuki.

こちらこそ。
kochira koso.
Same here.
なかなかいいパーティーじゃない?
nakanaka ii pa-ti- janai?
Nice party, isn't it?
そうですね。
sou desu ne.
Yes, it is.
でも、ちょっとうるさいし、人が多いよね。どこかでコーヒーでも飲まない?
demo, chotto urusai shi, hito ga ooi yo ne. dokoka de ko-hi- demo nomanai?
But it is a little loud and crowded. How would you like to get some coffee?
ありがとう、でも、友達もいるし、ここに残るわ。
arigatou, demo, tomodachi mo irushi, koko ni nokoru wa.
Thanks, but my friends are here. I'll stay here.
パーティーのあとならどう?
pa-ti- no ato nara dou?
How about after the party?
仕事の準備で忙しいからだめです。
shigoto no junbi de isogashii kara dame desu.
I'll be busy preparing for my work.
じゃ、今週末は?
ja, kon shumatsu wa?
Well, how about the weekend?
友達でいましょう。
tomodachi de imashou.
Let's just be friends.
妹か、お姉さん、いる?
imotto ka, oneesan, iru?
Do you have a little sister? an older sister?
---
VOCABULARY:
こんにちは konnichi wa—hello
僕 boku—I; me [mostly used by males] フランク furanku—Frank
ゆき yuki—Yuki, a girl's name
よろしく yoroshiku—pleased to meet you
こちらこそ kochira koso—same here
なかなか naka naka—fairly; pretty
いい ii—good; nice
パーティー pa-ti–—party
じゃない ja nai—isn't it?
そうですね sou desu ne—yes, it is; it isn't isn't it?
でも demo—but
ちょっと chotto—a little
うるさい urusai—loud
し shi—[used with a list: loud and lots of people] 人 hito—people
多い ooi—many (people)
よ yo—sentence ender showing emphasis
ね ne—sentence ender showing agreement or confirmation
どこか doko ka—somewhere
コーヒー ko-hi-—coffee
でも demo—(coffee) or something
飲まない nomanai—won't (you) drink
ありがとう arigatou—thanks
でも demo—but
友達 tomodachi—friend(s)
も mo—also
いる iru—are here
し shi—[used with a list of things (friends are here and…] ここに koko ni—at here
残る nokoru—(I'll) stay
わ wa—[feminine ender] パーティーのあと pa-ti- no ato—after the party
ならnara—if (after party); what about (after party)
どう dou—how about?
仕事 shigoto—work
準備で junbi de—with preparations
忙しい isogashii—busy
から kara—therefore
だめ dame—no good; wouldn't work
今週末 kon shuumatsu—this weekend
友達で tomodachi de—as friends
いましょう imashou—let's exist; stay (as friends)
妹 imouto—younger sister
お姉さん oneesan—older sister
いる iru—exist