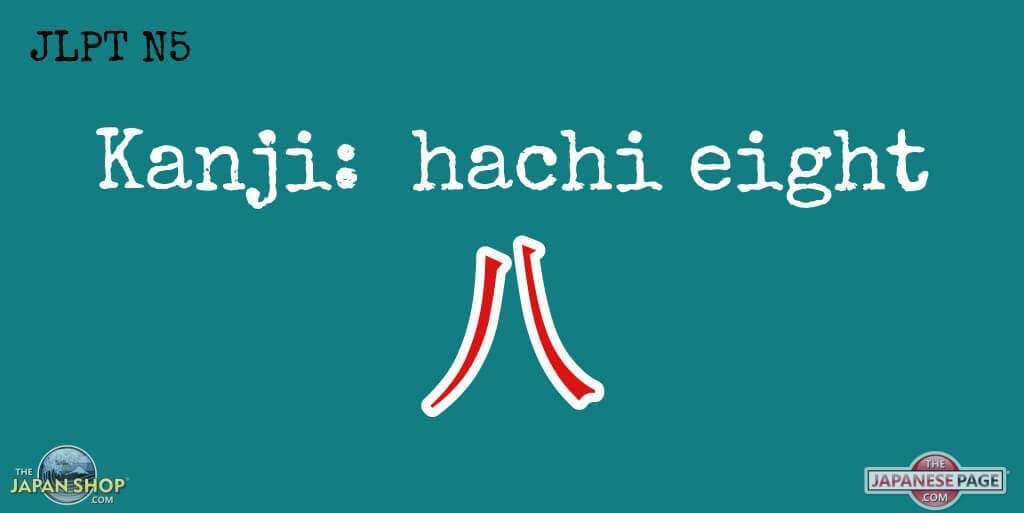 Kanji: 八 hachi eight
If you have studied katakana, you will notice this looks like "ha." So HAchi = 8
JLPT N5: 8 / 100 | 2 Strokes
八

On: ハチ
Kun: やっ・つ
Meaning: eight
Stroke Order:

Examples:
八 hachi – eight
八年間 hachi nen kan – eight years
八月 hachi gatsu – August [the 8th month]
今月の二十八日は私の誕生日です。
kongetsu no juunihachi nichi wa watashi no tanjoubi desu.
The 28th of this month is my birthday.
Exclusive Deal For You The Complete Japanese Reader Collection. This bundle set includes ALL EIGHT Volumes of the Japanese Reader Collection in digital format (Each priced at $4.49 at Amazon). Download instantly and begin improving your Japanese reading skills (PDFs, ePub, MOBI), listening abilities (MP3s), and vocabulary. An amazing value! Click the image below to learn more.