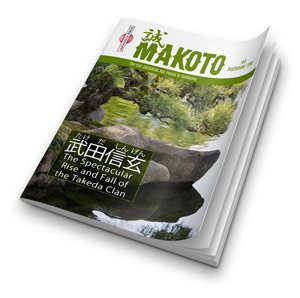 DOWNLOAD the eBOOK:
Please note: We are providing the sound files from this issue openly, but to follow along and have full access to grammatical notes and the running gloss, please either purchase this issue at:
LISTEN OR DOWNLOAD THE SOUND FILES:

Takeda Shingen was a powerful daimyo of Kai Province (modern-day Yamanashi Prefecture). His primary rival was Uesugi Kenshin. Uesugi's nickname was "The Dragon of Echigo" and Takeda's nickname was "The Tiger of Kai.". The story is recorded both regular speed and slowed down.
Reader Sound Files NORMAL SPEED: Click to Download
Reader Sound Files SLOW SPEED: Click to Download
---
IN THIS ISSUE:
NEW READER: Takeda Shingen
38 Pages

ž Laughs, Jokes, Riddles, and Puns
ž Prefecture Spotlight: Kagoshima
ž Etymology: あばよ
ž Phrase of the Day: Here's looking at you, kid.
ž Kanji Spotlight: Behaviors
ž Grammar Time! しまう
ž Reader, Grammatical Notes, Kanji Notes, and English Translation